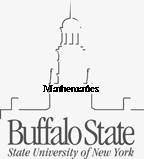 The Mathematics Department
Buffalo State College mathematics majors, particularly those, who have transferred to our program from larger schools, often tell us how much they appreciate the amount of individual attention they receive from our faculty. The maximum class size for mathematics courses is 35 students. All of our classes are taught by full-time professors with doctorates or adjunct professors who have a minimum of a master's degree in mathematics or a related field. Our faculty members are effective, interested teachers who enjoy working with students, challenging them, and helping them grow. The mathematics faculty members are readily available to students during office hours and actively encourage students to take advantage of this. The faculty works with students on individual projects and presentations. Members of the department provide opportunities for some of the better students to conduct research, serve as research assistants, teaching assistants or tutors.

The Mathematics Department at Buffalo State College is responsive to the needs of our changing society. It offers prospective majors three undergraduate programs and a MS in Mathematics Education, all of which, have recently been revised and conform to the recommendations of the Mathematical Association of America's Committee on the Undergraduate Program and the National Council of Teachers of Mathematics.

Students in all three undergraduate programs take the same required core of mathematics courses along with the general education courses required by the college and choose from the same list of mathematics electives. The three programs choices are: (1) the bachelor of science in mathematics with adolescence certification(BS), (2) bachelor of science in applied mathematics (BS), and (3) bachelor of arts in mathematics (BA) there is a foreign language requirement for the B. A. and not for the BS. Students in the mathematics secondary education program take electives and professional courses for teacher certification by the State of New York in addition to the courses required for the mathematics major. Mathematics/secondary education majors obtain preliminary teaching certification upon completion of the BS and earn professional certification after obtaining a masters degree. To learn more click on Programs at the top of this page.