Charlatan
a person who pretends to more knowledge or skill than he or she possesses
one who, without justification, overtly presents himself as having a special quality or significance
a person who makes elaborate, fraudulent, and often strident claims to skill or knowledge
one who acts as though more important, valuable, or special than is clearly warranted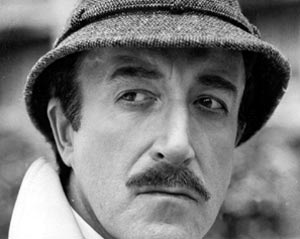 People who do not know Jacques Clouseau think of him as France's greatest detective; however, those who do get to know him are quick to realize his incompetence and limitations.
Jacques Clouseau fancies himself a suave master of deduction and disguises, but invariably ends up falling off couches, stumbling over potted plants and creating havoc while baffling interviewees with his ridiculous paté-thick accent.

Jacques Clouseau has become synonymous with anyone who keeps making ludicrous assumptions and has difficulty solving routine problems.
We all know someone who thinks, without any justification, that he/she is well-informed and brilliant. I know one such person. Can you guess who? Look at the picture!